Previously: Reviewing the Shortest Books I've Read | Coming Soon: The Last Wish Review
Girl, Woman, Other is a contemporary fiction novel by Bernadine Evaristo, published by Penguin on May 2nd 2019. Each chapter follows a different black woman living in Britain and their experiences. The book has already had a lot of critical acclaims, and jointly won the Man Booker 2019 and is now shortlisted for the Women's Prize 2020. I read this as part of my Woman's Prize TBR (which was thrown into chaos with the closure of the libraries) and was able to borrow the eBook from my library via BorrowBox.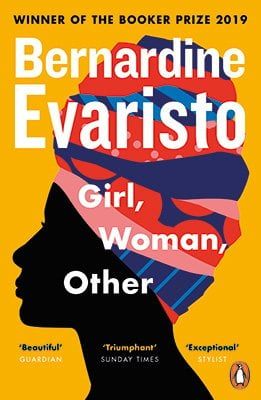 First of all, I would like to address the form of this book. Technically I suppose you would describe it as experimental and that is true. The narrative lacks traditional punctuation, though makes use of traditional paragraph breaks and chapters. However, it's not experimental in the way that is off-putting to the casual reading because the writing flows so well that you forget about the form completely. Evaristo uses this form with such a masterful hand that I don't feel nervous recommending this to people who aren't used to this type of experimental format, as it comes across as accessible to all readers. Perhaps this is one of the many reasons for its popularity.
The chapters are almost like vignettes, that is to say, they offer a glimpse into the life of that particular character. I'm not the biggest fan of vignettes personally, however, Evaristo was clever in structuring her novel because each chapter leads you to the next character. For instance, the first chapter follows Amma, the next chapter follows her daughter, Yazz. Not all the relationships and connects were as clear cut as this and I loved the way that she builds this delicate web of connections between each charterer. Some of the connections were obvious, and the characters knew about one another, but others were not so. In this way, it mirrored how a person can affect another's life, or vice-versa, without either one of both being aware of it.
While each character has their strands of plot, which sometimes bleed into other characters chapters the book as a whole is character-driven. Off the top of my head (I have returned the eBook to the library) I can count at least sixteen characters which is a lot, and I am saying that as someone who loves multiple perspectives in a novel. Somehow Evaristo has managed to deliver sixteen distinctive characters successfully. With sixteen characters there are always going to be a couple who aren't your favourite, but they only have one chapter each which makes it easier to get through. These characters are enlightening in their diversity as they represent different backgrounds, heritages, and LQBTQIA+ orientations. This truly illustrates the core message of the novel, that there is no single black British female experience, and that their characters, all sixteen of them, can only represent themselves.
Unfortunately, I did find the ending a little disappointing. The majority of the novel is so strong, and the ending feels as though it trails off a little. I understand that the book is not plot-driven and there is not a plot to resolve, as there would be in a more traditional narrative, but the ending felt as though it lacked purpose.
Overall, I gave Girl, Woman, Other ⭐️⭐️⭐️⭐️ out of a possible five-star rating. It does a brilliant job of bridging that gap between literary fiction and general fiction, which I love because I think it gives readers more confidence to branch out. It is a really strong book but the weak ending did let it down.
Girl, Woman, Other is available in all formats from Waterstones, Amazon, or your favourite bookshop