Previously: The Devil and the Dark Water Review |Coming Soon: One by One Review
The Tower of Fools is a historical fantasy novel by Andrzej Sapkowski, best known for the Witcher books. It was published originally in Polish in 2002 but Gollancz is bringing us a translation by David French on the 27th of October 2020.
The book follows Reinmar, sometimes called Reyneuvan, who is discovered in bed with someone he shouldn't be. As he flees in fear of his life, he finds himself on an adventure with far-reaching consequences much bigger than he could have imagined.
I read an early copy of this book through an app called Secret Readers where you can read some advanced copies of upcoming titles. I am under no obligation to post a review, and this reading experience does not have an impact on my review.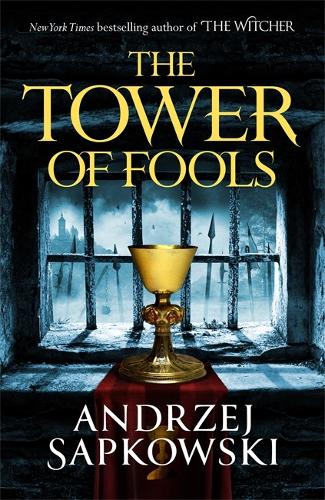 You may find that my plot summary above is a little vague but that is because a lot happens in this book. Reinmar is constantly on the move and making all the wrong decisions. However, the overarching plot contrasts with this as it is a slow burn and takes a while for you to figure out what it is. Retrospectively I can see that there is a nice balance between the two, but while you're reading this is not always clear, and the book can feel very tangential at times. My advice for reading is to just keep going, even if you don't think you're going anywhere.
I found the historical setting a fascinating element to the book as it is not something I would often read. I cannot speak for the historical accuracy of fifteenth-century Europe, as it's not quite in my wheelhouse, but I did enjoy it. At times the historical element is very heavy-handed, nowhere more so than in the prologue, but I don't think it matters whether you have a grasp on it or not. It's there for context, and to enrichen the world, but don't let it dissuade you. That aforementioned prologue can be very off-putting, but I would encourage you to push through. While the narration can feel heavy as a result, the dialogue is a lot lighter and gives the overall book a great balance.
I enjoyed the use of subtitles to begin his chapters. For instance, 'Chapter 10: In which both Reynevan [does a thing]'. I can see that it wouldn't appeal to everyone, but it is common in nineteenth-century literature, and so appealed to me greatly. The subtitles also had a dash of humour, which gave the narration a sense of self-awareness.
Our protagonist is Reinmar, a doctor according to some and a charlatan according to others. He is a likeable character, despite many poor decisions. You can see his growth between the first and final chapters which is always great to see. The overall arc also did really interesting things with the way it uses the traditional hero trope. It also makes me excited to see where he would go from this point given that this is the first book in the Hussite Trilogy.
The depiction of women in this book was not great. The first chapter, where Reinmar is in bed with a woman, uses a lot of over the top metaphors, such as '[he' plunged himself into her orchard of pomegranates'. I'm not a fan of this sort of writing and, while I can appreciate that the author was going for something a little more elevated, it did not land, at least in my opinion. I think that there is potential for some interesting female characters, but they are not the focus of this book and, I can only hope that we see more of them in the future.
I do think that this book would benefit from having a character list somewhere. Even our protagonist Reinmar is also sometimes called Reyneyvan, which can confuse. I am aware that they may be one in the finished book, and I hope that it the case. There are a lot of names characters in this book and, I did forget who some of them were so a character list would be a great resource.
Overall, I gave The Tower of Fools THREE out of a possible five stars. I had a good time reading and appreciated it, even more, when I could look at it retrospectively.
The Tower of Fools is available from Forbidden Planet (affiliate link) , Waterstones, or your local bookshop