Previously: The Tower of Fools Review | Coming Soon: December Reading Wrap-Up
One by One is Ruth Ware's latest thriller around a group of co-workers who get trapped in a ski-chalet after an avalanche. It is published by Vintage Publishing and is released on the 12th of November 2020.
I very kindly received an eARC via NetGalley, however, all opinions are my own.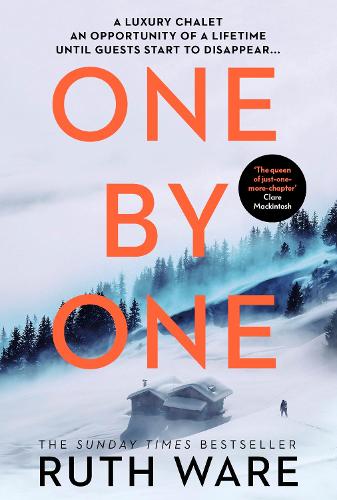 I was sold on the concept of this novel instantly. A group of people all trapped together when one of them is murdered is my favourite sort of set-up for a murder mystery. It's very reminiscent of the masterpiece that is Agatha Christie's And Then There Were None. There's just something about the intense claustrophobia of novels like this that always sucks me in, and this one was no different.
One by One, if nothing else, is a fun read and I would recommend it on that alone. Though that's not to say that it doesn't also have other qualities to recommend it. It is also a very well-paced mystery, much more so that Ware's previous book, The Turn of the Key, which shows growth and improvement as an author. The atmosphere and setting, much like in The Turn of the Key, was great. I can still see it vividly in my mind, and Ware crafted such a tense atmosphere which coupled with the setting of the snowy alps makes this book a perfect winter read. It also has, what I consider, to be a more satisfying ending to the mystery, though I know that this is very subjective. I did not necessarily guess who was responsible, but it made sense when that element was finally revealed. In short, I bought into it 100%. That said a couple of chapters towards the end did veer a little bit towards the ridiculous. It was as though the book had reached boiling point and instead of controlling it, it just boiled over into chaos. It felt as though the author lost control over her characters, which was unfortunate. The idea was good, but on the page, it just felt a little bit silly which was a shame.
The book has a limited cast of characters, as is typical of a book with these sorts of conventions. There are two staff members at the chalet, one of which is a narrator, and the guests all work, or used to work together at a music app business. Most of them are not the nicest of people and it was a lot of fun to dislike them. Essentially you could love to hate them, especially as the story progressed and some of those shiny veneers cracked under the pressure of being trapped in a chalet with a dead body knowing that one of your friends/co-workers is a murderer. The characterisation, of Topher in particular, was so accurate I knew exactly the sort of person he is, and I feel like I'm met many Topher's in my lifetime.
The narration was spile between two perspectives. I usually love a split perspective book but in this instance, I think that the claustrophobia could have been amped up tenfold had it been single perspective. The additional narrator detracts from focusing on the plot. Much like a magic trick you don't want to see a mystery from all angels because, either you'll see how the trick is done, or you'll realise that you've been cheated. After the book had ended I felt as though I had been cheated a little.
Overall, I enjoyed reading One by One. It was an easy read, a fun read, and ideal for this time of year. I'd recommend it, and I think that it would make a great Christmas present.
One by One is available now from Waterstones, Amazon, and Bookshop.Org. Do support your local bookshops and order from independent retailers is you can.