Previously: Criminal Sanity #7 | Coming Soon: Dubliners, 'Araby'
Nothing But Blue Sky is a contemporary novel by Kathleen MacMahon, which follows one man returning to a place he used to holiday with his wife, who has recently died. The book is published by Penguin, on July 30th 2020, and has been longlisted for the Women's Prize for Fiction 2021.
If you are interested in learning more about the 2021 longlist then be sure to take a look at my post.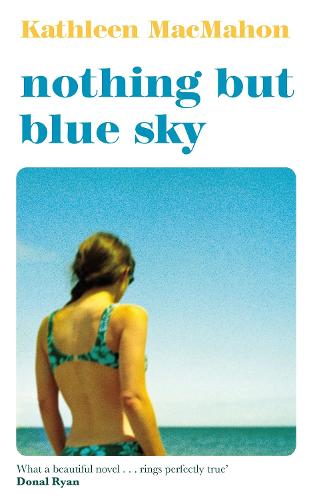 The plot of this book is essentially what I have just described. It is very simplistic in that aspect, which gives a chance for the characters to grow in front of us, something that feels very organic. The plot is slow but reasonably steady as we learn how David's past with his wife, Mary-Rose, informs his present. Not only do we learn about his relationship with Mary-Rose, but also his mother, and how this relationship affected his childhood. Coming from a working-class background, and rising above that through his career in journalism, David never quite understands his mother and her relationship with his father. While Mary-Rose is the focus of this retrospection, I particularly enjoyed the soft comparisons to his mother as well. It gave David, as a character, much more depth, which, in turn, makes him more interesting to read. Regarding this topic, the book also shows what resolution can look like, and how it isn't always tied up neatly with a bow but that doesn't mean that it doesn't exist.
The majority of the plot focuses on David's return to their traditional holiday spot and how that looks now that he is on his own. The descriptions of this location are gorgeous, and you cannot help but be sucked in by the sea, sand, and sun. Even the depictions of the other people who they see there every year felt so familiar. The descriptions were so great that I was always slightly yearning to return there when the author took us to David's past. Nothing else felt as though it quite measured up to these holiday parts, and the rest lacked vitality in comparison. This was true whether in the past or present storyline, which is interesting as it may be suggesting that this is where David feel most alive. Certainly, it seemed that throughout the novel, this was the place he felt the most comfortable, even though it was a big learning curve going from part of a pair to a single person.
Despite the warmth of these descriptions, the book does focus, unsurprisingly, on the grief of losing a family member. However, the book doesn't feel as though it is weighed down by this. It is well balanced with good memories, and with good times. David isn't just sitting around wallowing in his grief, instead, he's trying to teach himself how to live with it. It was smart of MacMahon to introduce a second character who was also grieving, to look at how tragedy can affect a person. The book does a great job of exploring these themes through different viewpoints so that while it is from David's perspective, we aren't limited to just his experience. OF course, it is worth mentioning that my edition is 307 pages, so this is all done very concisely.
As I have already mentioned the protagonist of the novel is David. When the book starts Mary-Rose is already dead, so we only meet her through David's memories, which was a fascinating way of building her character. This also provided a contrast for us so that we could see how he grew when he was with Mary-Rose, but also how he continues to grow without her. I especially loved the final few chapters when this became more pronounced. The only thing I would say was that I never quite got a grasp on just how old he and Mary-Rose were because more physical elements of his description were never quite established.
Overall I gave Nothing But Blue Sky three out of a possible five stars. It does an excellent job of addressing difficult subjects like tragedy and grief but never feels like it is trying to overwhelm you. It proved to be a lovely character study but unfortunately lacks the lasting impact which I expected.