Previously: September TBR| Coming Soon: Five-Star Summer Reads
Bringing Down the Duke is the first in a romance series by Evie Dunmore which follows a group of Bluestocking women studying at Oxford University in the 19th century.

Published in September 2019, we follow the dual perspectives of Annabelle who receives a scholarship through the Women's Suffrage chapter, and Sebastian, the Duke she accidentally petitions to change the Married Women's Property Law. The sequel, A Rogue of One's Own, was published in September 2020, and the third book, A Portrait of a Scotsman, is due to be published September 7th 2021, all by Piatkus.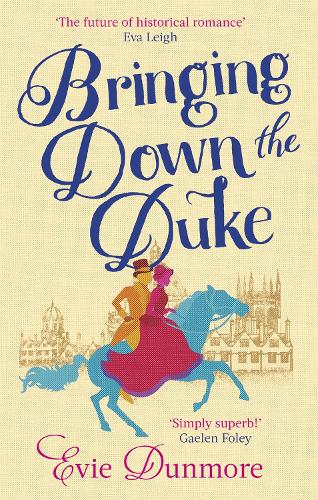 If you keep up with my monthly wrap-ups, you may remember that I originally read this book in August 2020 and promised that a review was 'coming soon'. It is now January 2021 and, I am not only (finally) getting around to writing my review, but I have also reread the book. Rereading will be beneficial to write a review, however, I read it simply because I adored this book and wanted to feel that way again. It did not let me down.
Let us first talk about Dunmore's writing. It is lovely and accessible, which makes this great to recommend to the average person. Historical fiction can sometimes feel weighed down by the writing, which either wants to mimic books from that period or who want to give you a history lesson. This book has neither of those qualities. Did I learn something about the history of this period? I did, and it has made me want to read more about Women's Suffrage. But it never felt like that was Dunmore's first intention. The writing is lovely a light, which helps you to speed through the book. This could be mistaken for simplistic writing, however, Dunmore's writing is in face exceedingly clever. The point-of-views are so distinct that she can switch whenever and wherever, without warning, she wants to, and I know exactly from whose perspective we are reading. When a writer can handle perspectives with such skill it is usually a promising sign. It gives you everything that you need without too feeling like you are being spoon-fed information. As a debut, which I believe this is, it is nothing short of impressive.
The pacing of this book is excellent. In a romance book, the plot is expected to revolve around the relationship between two people. It is because of this that romance can be more difficult to write than people expect. In Dunmore's case, you need not worry about it getting stale halfway through. The author creates the right amount of tension which waxes and wanes beautifully throughout. I cannot praise her enough for the pacing of this book because it is practically perfect in every way.
As I previously mentioned the narrative is split between Annabelle, and Sebastian, the Duke of the title. They provide utterly delicious counterparts to one another, and in the moments, they were together I had butterflies. It is magic. It is electric. It is everything I have ever wanted from a romance book or a romance in general. When they were apart, the narrative itself was interesting enough to keep you entertained. Dunmore employed this clever little tactic of having their inner thoughts mirrored by one another.
For instance:
In Sebastian's inner monologue he compares her eyes to a deep pool of water.
"Her eyes were a hundred miles deep. A man might never come up again once he took the plunge. Damn it all."

Around thirty or so pages later Annabelle echoes his thoughts with a similar water-based comparison.
"God help her she wanted to fall in and sink to the bottom."
Both quotes involve water-based comparisons, in addition to the references to God. As a vicar's daughter Annabelle beseeches God to 'help her' because she wants to sink into Sebastian, both physically and metaphorically. Sebastian perhaps shows that he has slightly less reverence for the church through his use of the word 'damn'. Religion in both instances hints at their past. Both express a desire to drown in each other, and it is a beautiful way for Dunmore to suggest to her readers that they are meant to be together.
In any romance book, the focus is usually on the primary couple, and that's exactly where I want it to be. However, it is worth mentioning that both characters are also strong enough to stand apart from the romance. Neither are defined by one another. This is especially true for Annabelle. She is a strong female character, and the fact that this is a romance novel, and that she is (no matter what she may say) in love with Sebastian does not detract from this. Dunmore is brilliant in the way that she plays with the power dynamics of the two. When it matters, when it may seem that Sebastian should be the one in charge, being a titled, rich, white, male, it is Annabelle who has control. It always feels like it is her decision, and Sebastian never encroaches on her in a way that forces her to be the submissive one. Annabelle makes her own decisions thought the book, which strengthens the choice to have Women's Suffrage as a subplot.
Overall, you will know by now that I cannot give this book any less than a full five-star rating. It is lightning in a bottle and makes me excited for everything that Evie Dunmore will write in the future. It is without a doubt a new personal favourite, and I firmly believe that it has set a high bar for the historical fiction romance that I will read in the future. Bravo, Evie Dunmore.
Bringing Down the Duke is available from all the usual places. Don't forget to support your local bookshop where possible, and you can always inquire at your local library
Coming Soon… Five-Star Summer Wrap-Up
In the meantime, why not check out… Transcendent Kingdom Review, Death and Croissants Review, Ace of Spades Review