Previously: Ariadne Review| Coming Soon: March Reading Wrap Up
Mina and the Undead is a young-adult horror/fantasy debut novel by Amy McCaw. Published by UCLan, and set in the 1990s, seventeen-year-old Mina is spending the summer with her sister in New Orleans. What was supposed to be a summer immersed in the local lore and working in a horror-museum takes a deadly turn when she stumbles across a real corpse. The book releases on April 1st 2021.
Disclaimer: I received an eARC of this book from the publisher via NetGalley. This in no way affects my review. This review, as with all my reviews, are my own opinions.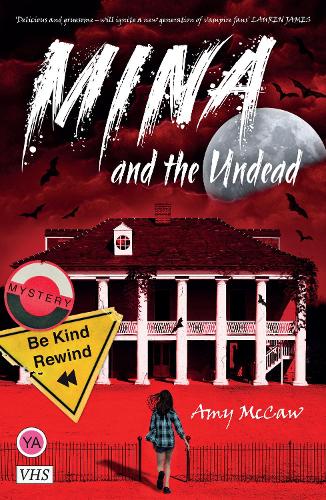 For the past year or two something exciting has been happening in the world of publishing trends. I'm talking about the vampire renaissance, a movement which, as someone who wrote her dissertation on the topic, I am very much in support of. Mina and the Undead is the latest vampire-themed book to join the ranks. Named after the heroine of Dracula, Mina and the Undead is saturated with pop culture vampire references that leave you thirsting for more.
As you would expect with the young-adult age range, this is a brilliantly fun and fast-paced book. There is a sense of constant movement to it which makes it difficult to put down as you're reading. The author barely gives you a moment to pause and breathe because there always seems to be something happening. The element of mystery keeps you guessing and theorising. I had a million and one theories, none of which were correct. As this develops, so does the sense of urgency, particularly as Mina finds herself increasingly personally involved in the case.
Our narrator for the novel is Mina, who travels from Whitby, famous for being the place Dracula first arrives in the UK, to spend the summer with her sister. We often see vampires representing a group of people alienated by society. It was interesting then to see that Mina, while not a vampire, is a stranger in a strange land so to speak. She has her sister, though their relationship is strained, and she quickly makes friends with the roommates who live with her sister. The bonds between this group were interesting because they reminded me a little of the concept of a nest of vampires. I wish we had gotten to see a little more of them together, just to have some glimpses of the dynamic pre-Mina.
There is a little romance in this book, which is more of a side-plot than the main focus. However, the relationship between Mina and her sister Libby was the focus regarding relationships. They have a strained relationship because they are not very open with one another, and the book seems to be trying to repair this relationship. Unfortunately, Libby is somewhat absent for a chunk of the plot which means that Mina loses any opportunity to repair their relationship. The relationship does evolve and improve but overall was a little neglected. There was more potential there than what actually happened on the page.
My favourite part of this book is without a doubt the setting. Despite having never visited, I recognised the depiction of New Orleans easily from other media. As I read I couldn't help think about American Horror Story: Coven and Renee Ahdieh's The Beautiful. The city feels rich with history, myth, and legend. Some of the references I already knew, others were news to me, so it felt like I was becoming more familiar with the city. With a setting like this one, it becomes an additional character. It helped to ground the plot but also make you feel like anything could happen.
For the most part, the ending wraps up relatively neatly regarding the murder plot. The final few chapters of action rely on a series of shocking revelations that leave your head spinning. It was perhaps a little too quick, and I had to reread a couple of pages to glean some clarity about what was happening. One little thread that is left a little unresolved could be leaving room for a sequel. However, it also works well as a stand-alone novel.
Overall, I gave this book ⭐️⭐️⭐️ out of a possible five stars. It an enjoyable, fast-paced, and fun read. It incorporates horror elements into a murder mystery connected to the mythology of New Orleans. I'm not sure that it will leave a lasting impression on me, but I did love the setting and all the referenced to vampire pop culture.
Mina and the Undead is available to purchase now from Waterstones, Amazon, or your local bookshop. Don't forget to support independent bookshops and libraries when possible.