Previously: Dubliners, 'An Encounter'| Coming Soon: Nothing But Blue Sky Review
No One Is Talking About This is a contemporary novel by Patricia Lockwood which explores our relationship with social media through a character who is 'famous' for a viral tweet. It was published by Bloomsbury on February 16th 2021 and has been longlisted for the Women's Prize for Fiction 2021.
You can find my one-sentence version of the longlist here.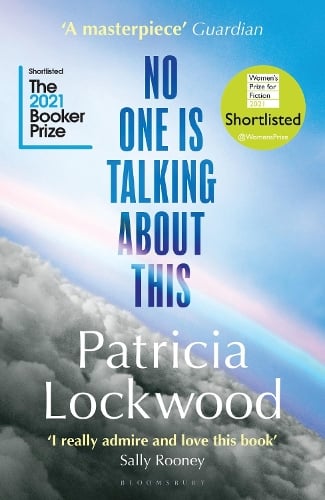 In all honesty, the idea of a novel about social media scared me. I use social media daily, just like the majority of us, but I have no desire to explore my relationship with it. Why did I read this book? Quite simply because it was the first one from the longlist that I could get from my library. I did not go into this book with high expectations, and I rarely ever go into books expecting to hate them. This is a rather long way of introducing you to the fact that this book surprised me in the best possible way.
This isn't a book about social media. At least not entirely, and not in the way that I was expecting. This is a book that is interested in exploring the public and private spheres of our lives, through that of our narrator's life. It is a social novel, in the same vein as Jane Austen, where society has come to mean both our society online and offline. Lockwood provides a social commentary in the way that we may best recognise it today: social media posts. The book is written in short bite-sized segments that you could easily see scrolling through various social media. They aren't formatted like social media posts, so you needn't worry about being inundated with hashtags and likes but comes across as miniature vignettes. While this book may look intimidating, it makes the book easy to put down and, more importantly, easy to pick back up. Again, in a similar vein to social media itself.
As with Austen, the book possesses a sense of self-awareness as it tackles topics such as women's reproductive rights, masculinity, gun crime, and the state of modern America through the eyes of an American. There is the shadow of a plot, as we follow our narrator through her life online, and offline, but above all, this is a novel of ideas, rather than of plot. I could sit here and tell you that the plot and characterisation are weak, however, I recognise that the intention of the novel is not to give us these things. I am okay with that.
One way Lockwood illustrates the intricacies of the private and public spheres, of where they intersect and separate, is by changing the personal pronouns used. Throughout the novel the personal pronoun switches between 'I', 'we', and 'you', which asks us to consider how the individual sits alongside social media. This suggests the difficulty of asserting your individuality when you are constantly a part of the collective existing on social media. It also illustrates the aspect of performativity to social media, where we often pander to our perceived audience, which is a reoccurring theme of the novel.
We, the reader, see both the public sphere of our narrator's life in her interactions online but also her private sphere, a storyline that involves the pregnancy of her sister. This gives us a well-rounded view that is unknown to her followers. It is also a reminder that no matter someone's social media presence, we don't truly know them or what is going on in their lives.
However, even when social media takes a backseat to her family situation, it is still very much a presence. Lockwood discusses the obligation we feel to share and to keep sharing, even though what we do share may not be something we would say out loud. Similarly, our narrator expresses that she feels her most 'alive' when she is online. I believe that this outlook changes in the second half of the novel, but it does serve to drive home the concept of performative living once more.
Our narrator is keenly aware that social media for today, but also the future, as we are, whether for better or for worse, immortalised by our online presence and opinions. In this sense, the book is looking not just towards the present, but the future. Regarding the future generations Lockwood, though her narrator says:
You will be so wise! You will understand everything about our time! And you will know nothing about us!
Our attention is drawn to the theme of curated truth as we actively edit our online lives. Social media gives us control over our legacy, which suggests that social media is not a reflection of our lives, but rather an ideal to which we aspire. Lockwood uses the description of 'zooming in' to describe the ability that we now have to focus on certain things at the expense of others. Ultimately it is how we use this curated truth that tells us something about ourselves.
Overall, I have No One Is Talking About This FOUR out of a possible five stars. It is a "new social novel" in the vein of Austen, looking at the private and public spheres that illuminate the world around us. At points, the novel strays into becoming a concept, more than a traditional story, but it does so intending to probe into how we view society.
I am aware that this is less of a review and more akin to a discussion, but I hope this has given you food for thought.